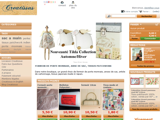 Creatissus
Dal 2009, Creatissus vende chiusura borsa e manici per borse. Il nostro negozio vende anche tessuti di patchwork, batik, americano o giapponese, bottone. Pagare con Paypal o bonifico bancario. Spedizione gratis per acquisti superiori ad euro 100,00.

Italpol Produkt
Vendita online di articoli per la casa, complementi d'arredo, illuminazione, articoli di design per interni e articoli da regalo

Sovrano Ordine di San Giovanni di Gerusalemme
Sovereign Order of Saint John of Jerusalem *World Confederation* (Knights of Cyprus - Rhodes - Malta - St. Petesburg)

Disegnatorecad.net
Realizzazione di rendering e video 3d di interni ed esterni edifici. Elaborazione di video 3d pubblicitari per qualunque tipo di prodotto. Disegnatore cad 3d per l'industria, realizzazine di file dwg per ogni tipo di macchina utensile. Corsi di autocad 3d e rendering online con skype e in sede.