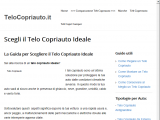 Telo per auto
Scopri i migliori e più convenienti teli copriauto per proteggere la tua auto contro gli agenti atmosferici e le intemperie come per esempio neve, grandine, ghiaccio, umidità, vento forte, caldo o freddo intenso.

Sovrano Ordine di San Giovanni di Gerusalemme
Sovereign Order of Saint John of Jerusalem *World Confederation* (Knights of Cyprus - Rhodes - Malta - St. Petesburg)

Case Roma
Progedil 90 offre da oltre venti anni le migliori case in vendita di nuova costruzione a Roma.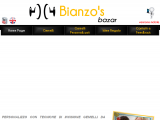 Bianzo's Bazar.com
Personalizziamo gemelli per camicia da uomo con le iniziali rifinendoli a mano. L'eleganza è nei particolari per un uomo d'affari ma anche per il futuro sposo o il ragazzo che vuole essere alla moda e distinguersi. Indossare dei gemelli personalizzati con le iniziali sia in silver plated che argentati o dorati rendono la persona unica. Abbiamo un'ampia scelta di modelli da quelli classi ovali rettangolari e quadrati a quelli più trendy alla moda.